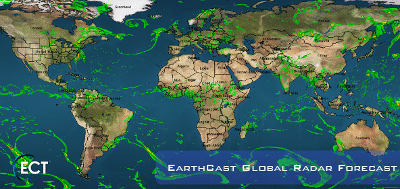 EarthCast Technologies has revolutionized how forecasts are made by developing and operating the first satellite-based global information system for continuously monitoring and predicting hazardous weather and environmental conditions.
We have developed the most advanced and accurate prediction system in the world providing innovative products and detailed information that deliver truly local to global capability for protecting property and lives, and increasing profitability.
Prepare for what is coming instead of merely responding to it.
Know the Future.
Advanced Earth System Monitoring and Prediction Solutions
HyperLocal Resolution
Local and site-specific predictions and monitoring
Rapid updates for ultimate precision
Customized products for detailed information
Full Earth system monitoring and predictions
Weather, water and land conditions in near real time
Predictions for any location on the planet
Local to Global Monitoring
Utilizing rapidly updating global satellite observations
Monitoring the Earth in near real time
Providing critical information about remote areas
Covering open oceans and isolated lands
GIS-based assessments and historical analysis
Providing situational awareness and context for trends
Industry Solutions
Information at any resolution to support your operations
Global situational awareness
Monitoring and prediction of the complete Earth system
HyperLocal Resolution for local and site-specific details
GIS-based customized products for decision making
Day-by-day assessments and historical analysis
EarthCast Industry Solutions
Read more +
AVIATION
EarthCast is the ultimate solution for aviation weather and flight planning. Our advanced predictions provide details of weather conditions and flight hazards over the entire globe. Our rapidly updating predictions are extremely accurate and provide the details needed for making informed decisions. EarthCast predictions are available for every region of the planet providing critical information about weather and flight hazards including clouds, winds, temperatures, icing, convection, the jet stream and even turbulence.
Read more +
AGRICULTURE
EarthCast provides detailed and innovative environmental monitoring and forecast information. Our use of global Earth observing satellites provides highly detailed and site-specific information for every location on the globe. Our GIS-based products are tailored to provide specific information about the impacts of weather by providing historical context through day-by-day assessments and historical analysis, as well as extremely accurate forecasts.
Read more +
CONSTRUCTION
EarthCast provides highly accurate HyperLocal forecasts and local real time monitoring of soil temperature, soil moisture and key weather components that can impact productivity on your job site - anywhere on the globe. From large projects in the city to job sites in very remote locations; when time is money, count on EarthCast to provide the information that you need.
Read more +
EMERGENCY MANAGEMENT
EarthCast combines the latest forecasting technology with high resolution satellite observations in near real time to produce HyperLocal predictions of environmental hazards. When seconds count, EarthCast provides critical information to decision makers about hazards of all kinds, whether man-made or natural.
Read more +
TRANSPORTATION
Whether your operations are over land, water, or in the air, extreme weather and environmental conditions are having an increasing impact on fleet management operations. EarthCast provides the information that you need to make critical decisions regarding your operations, no matter the scale, anywhere in the world. Don't just react to events as they occur. Know the Future with EarthCast.
Read more +
HYDROLOGY
The grand environmental challenge of this century is water - whether too much, or too little. And, the ability to predict when and where it falls and where it goes is crucial. Flooding and droughts kill more people than any other weather disaster and result in billions of dollars in damage every year. EarthCast provides water management solutions for both domestic and international customers world-wide, even where ground-based instrumentation is sparse - or doesn't even exist.
Customized Solutions to Meet Your Needs
EarthCast Customized Solutionsin 3 steps
We monitor and predict the complete Earth system, not just the weather. It is this total approach to understanding and monitoring the details of our planet's environment that sets EarthCast apart from other government and commercial providers of weather information. The end result - we produce the most advanced and accurate forecast available with highly detailed and extremely accurate monitoring and prediction products for the soil, oceans and the atmosphere.
Consult & Design
We work closely with your team to understand your environmental information needs, allowing us to fully utilize the capabilities of the EarthCast™ system to support your operations. From soil conditions to winds aloft, we have the information you need to make confident decisions, everyday.
Development & Testing
We offer unique solutions that you will not find from any other provider. Our team will develop and rigorously test a system that corresponds to your specific needs for environmental information.
Deployment & Training
We work with you ensuring full integration into your operations with expert training and support.
Weather. Water. Land. Know The Future.